Always up to date, always top quality
Rentco
Guide To Bobcat Excavator Sizes
June 8, 2023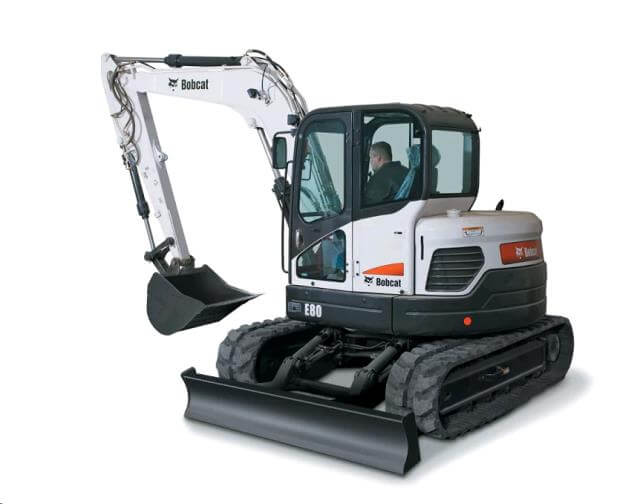 Bobcat excavators are versatile and powerful machines that come in various sizes to suit different job requirements. They are used in construction, landscaping, and many other industries that require excavation work. 
Selecting the right size of bobcat excavator is critical to ensure the job is done efficiently and effectively. In this guide, we will cover the different sizes of bobcat excavators, the factors to consider when choosing Bobcat excavator rentals from Rentco, and the benefits of selecting the right size. 
If you have ongoing excavator needs, our Bobcat of the Peace location in Grande Prairie (11437 97 Ave) is a licensed Bobcat dealer with several in stock. Our knowledgeable staff will be happy to explain their various features and help you find the perfect model for your residential or commercial projects.
Understanding Bobcat Excavator Sizes
Bobcat excavators are available in two main size categories: compact excavators (which includes mini excavators) and large excavators. Each size is designed for specific applications and has its advantages and disadvantages. 
Compact Excavators
The broad category of Bobcat compact excavators ranges from their ultra-compact E10 to the much larger E88. You can find excavators within this lineup that have an operating weight anywhere from 2,000 lbs to 20,000lbs. As a result, Bobcat compact excavators, as an overarching category, are suitable for a number of applications, including digging, grading, and demolition work. Compact excavators are commonly used in construction, landscaping, and forestry projects.
The advantage of a compact solution lies in its interesting balance between size, power and maneuverability. Models like the E20 Mini Excavator prove particularly effective in tight spaces where precision is required. This maneuverability diminishes in exchange for greater lifting capacity, dig depth, reach and dump height as you work your way up the Bobcat compact excavator lineup to models, like the E60 Excavator and E88 Excavator. 
When you select Bobcat compact excavators, their smaller size makes them easier to transport from one job site to the next, but this advantage does come with limitations on larger, more heavy-duty projects. 
Large Excavators
Large excavators are the biggest in the Bobcat excavator lineup, with an operating weight of over roughly 20,000 lbs and up. They are designed for heavy-duty applications, such as mining and large-scale construction projects. Large excavators are used for digging deep trenches, lifting heavy loads, and demolishing large structures.
The advantages of large excavators include their massive lifting capacity and their ability to handle the most demanding jobs. They are also designed to work for extended periods, making them suitable for long-term projects. The main disadvantage of large excavators is their size, which limits their maneuverability and makes them unsuitable for small job sites.
Bobcat Excavator Size Chart & Specifications 
In the section below, you can find the detailed machine information of our Bobcat excavator models and the accompanying description of each metric.
Model
Operating
Weight
Max Dig
Depth 
Max Dump
Height 
Max Reach 
Engine 
Bobcat E20-324 Mini Excavator
4306 lbs (1,953 kg)
8.5 ft (2.6m)
8.8 ft (2.7m)
14 ft (4.3m)
13.9 hp (10kW)
Bobcat E35 Excavator
7699 lbs (3,492 kg)
10.2 ft (3.1m)
11 ft (3.4m)
17.2 ft (5.2m)
24.8 hp (18kW)
Bobcat E50/E55 Excavator
12204 lbs (5,536 kg)
12.9 ft (3.9 m)
13.6 ft (4.1m)
20 ft (6.1m)
49.8 hp (37 kW)
Bobcat E60/E63 Excavator
13,779 lbs (6,250 kg)
13.5 ft (4.1m)
13.5 ft (4.1m)
20.4 ft (6.2m)
59.4 hp (44 kw)
Bobcat E80/E85 Excavator
18,977 lbs (8,608 kg)
15.5 ft (4.7m)
16.7 ft (5.1m)
23.7 ft (7.2m)
66 hp (49.2 kW)
Bobcat E145 Excavator
34,987 lbs (15,869 kg)
19.6 ft (6m)
23.2 ft (7.1m)
27.9 (8.5m)
115 hp (84.6 kW)
Metric Descriptions
Here is a definition of each of the machine performance information metrics contained in the table above:
Operating Weight

: The total weight of the excavator, including the weight of the machine, its attachments, and any materials being carried.

Max Dig Depth

: The maximum depth to which the excavator's bucket or arm can dig into the ground.

Max Dump Height:

The maximum height to which the excavator can lift and dump material from its bucket.

Max Reach

: The maximum distance from the excavator's center point to the edge of its arm, including any attachments.

Engine: The measure of the excavator's engine power, typically measured in horsepower (HP), which determines the machine's overall performance and ability to handle heavy workloads.
Factors to Consider When Choosing an Excavator Size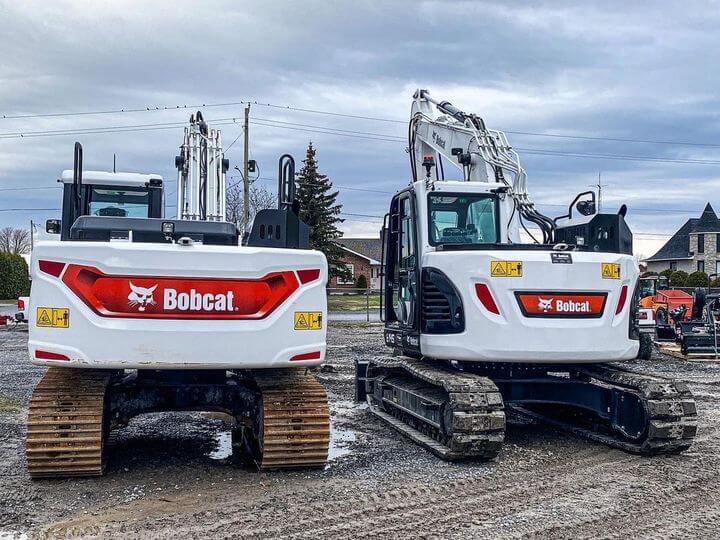 Several factors should be considered when choosing the right size of Bobcat excavator for a specific job. These factors include the job site constraints and the type of work required.
Job Site Constraints
Limitations at the job site can involve weight restrictions, limited space, and restricted access. A mini excavator could be the most appropriate choice if the job site is small and has restricted space. A compact excavator could be a better option if weight restrictions or access limitations are present at the job site.
Type of Work
The size of the Bobcat excavator required is also influenced by the nature of the task at hand. A larger excavator may be more suitable for tasks that involve excavating deep trenches or lifting heavy loads. On the other hand, for jobs that entail landscaping or grading work, a compact or mini excavator may be more appropriate.
Benefits of Renting the Right Size Excavator
Renting or buying the right size of bobcat excavator can offer many benefits, including reduced costs, increased efficiency, improved safety, and enhanced productivity.
Reduced Costs
Renting or buying the right size of excavator can help to reduce costs. Bobcat excavator rentals allow businesses to only pay for the equipment they need for the specific job, which can be more cost-effective than purchasing an excavator outright. Additionally, selecting the right size of excavator can reduce fuel costs and minimize the need for additional equipment and labor.
Increased Efficiency
Selecting the right size of bobcat excavator can also increase efficiency on the job site. A properly sized excavator can complete the job faster and more efficiently, reducing the time and resources required to help you maximize productivity. This can lead to cost savings and increased profitability for businesses.
Improved Safety
Selecting the right size of excavator can also improve safety on the job site. Overloading or using an excavator that is too small or too large can be dangerous and increase the risk of accidents. Selecting the right size can ensure that the excavator is operated safely and that workers are not put at risk.
Rentco – Your Go-to For Bobcat Excavator Rentals
For all your Bobcat excavator rental needs, look no further than Rentco. Selecting the appropriate size of excavator is crucial for efficient and effective job completion. Our Bobcat mini excavator lineup is perfect for small spaces, while our large excavator selection is best suited for bigger jobs. When selecting an excavator, job site restrictions and the type of work required should be considered. 
Proper sizing offers numerous benefits, including cost reduction, improved efficiency, safety, and productivity. By selecting the right Bobcat excavator size, you can complete projects more effectively, resulting in higher profits and customer satisfaction. Rentco has you covered for all your rental needs. Contact us today for more details.
Where to Purchase a Bobcat Excavator in Grande Prairie
As a licensed Bobcat dealer, Bobcat of the Peace in Grande Prairie offers a wide range of machines to meet your excavation needs. Our knowledgeable staff is on hand to help you select the ideal model for your project. 
We understand that every job is unique, and we will work with you to find the right excavator for your specific needs. Our team is experienced and well-versed in the various features and capabilities of each machine, so you can trust that you are getting the best advice possible.