The Best rentals, sales & service
About
Rentco
In service since
1963
Rentco Equipment Ltd. has been serving the Peace region for over 60 years. We are a strong customer focused, family owned,
equipment rentals business that is very proud to be 100% locally owned and operated.
In the beginning the company mostly supplied construction rentals. When the original company was bought out, each part went to a separate buyer including Ken and Marg Head who bought Rentco in 1963.
In 1973, Rentco became a Bobcat dealership, and a year later, George Shields and Rob Wilson bought Rentco. In 1975 George bought Rob Wilson out, purchased Peace Rent All, and opened a location in Peace River.
In 1980 Rentco built a new building on 97th Avenue in Grande Prairie and in 1981 the new shop opened. At the time it was the only building on the road, and what Rentco owned could all fit into that one building.
George acquired Diamond Energy in Dawson Creek in 1982, with his partner Tom Leslie George bought Tom out in 2002 and Tom retired.
The location in Fort St. John, BC was opened in 2003 and the Bobcat of the Peace location in Grande Prairie was opened in 2007. In 2014, Rentco's Head Office moved to a newly built location on 117 Street and Bobcat of the Peace moved to Rentco's 97th Ave. location.
Over the last 60 years, Rentco has grown to be a successful business that provides rental equipment for a number of different industries, as well as equipment sales and service. With equipment rental locations all across the Peace Region, Rentco has  the knowledge, expertise, and equipment to help residential and industrial customers, from homeowners to contractors to the largest mills and plants.
Today, Rentco has equipment rental locations in four different cities and isa local employer of over 115 talented people in the Peace Region.
Rentco's extensive experience in equipment rental has given us the knowledge we need to better serve our customers. We not only know what people are looking for, but also can make recommendations based on what has worked for other clients in the region. This all allows us to help you start a project or know how to fix any problems that may arise. .
Our history, locality, and long-term staff have allowed us to build lasting relationships with suppliers, customers, and the community. With employees who have been a part of our equipment rentals company for decades themselves, we know how to assist you.
Careers at rentco Our community support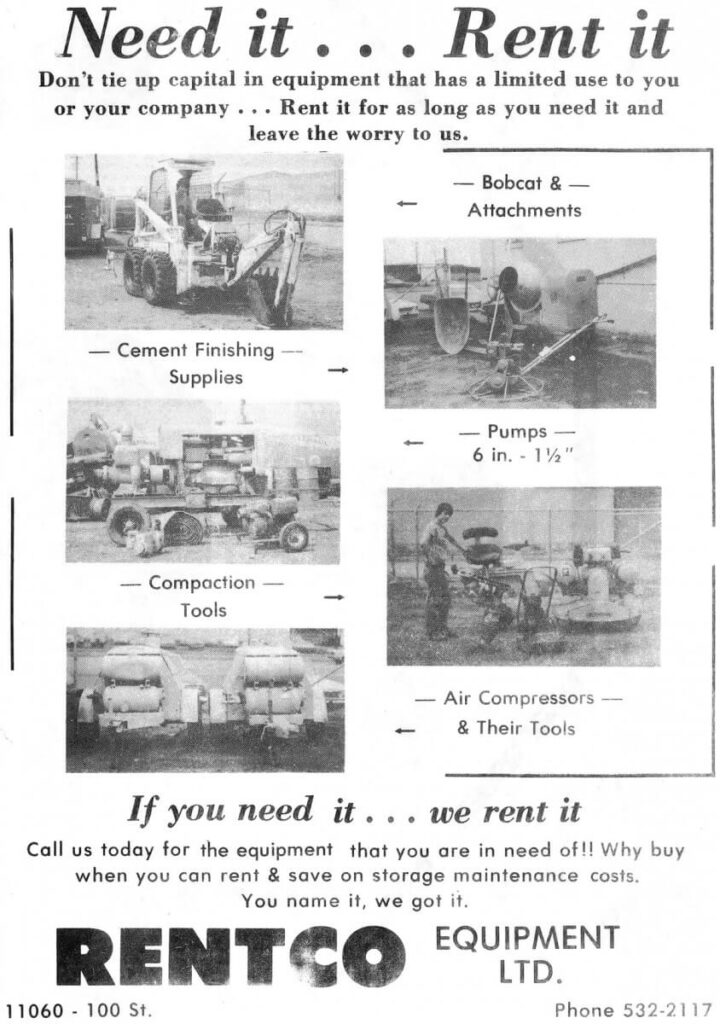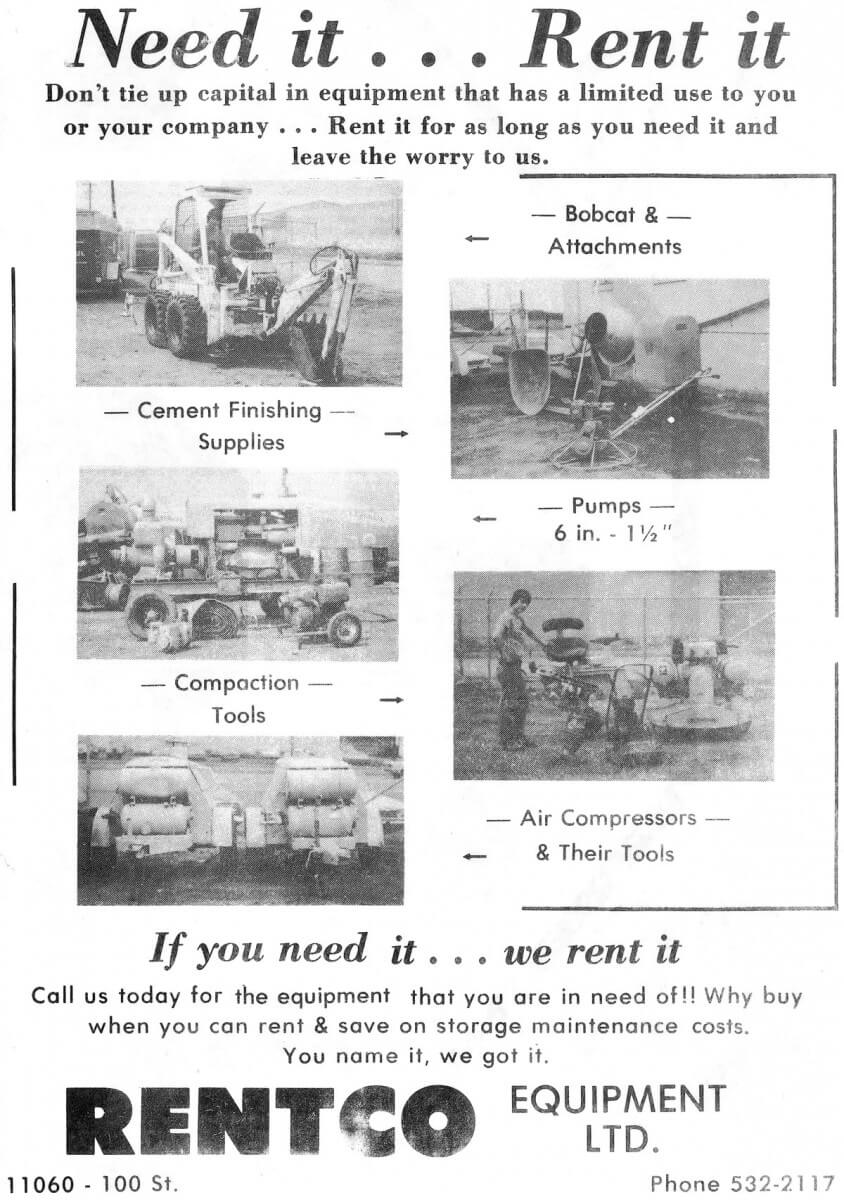 Ken and Marg Head started Rentco. ~ July 10th, 1963
Rentco became a Melroe Bobcat Dealer.
George Shields and Rob Wilson purchased Rentco.
George bought Rob Wilson out.
Opened in Peace River. George bought Peace Rent All.
Built a new building on 97 Ave.
George acquired Diamond Energy in Dawson Creek with his partner Tom Leslie.
The Peace Country Honda dealership was formed in Peace River.
George bought Tom Leslie out of Dawson Creek and Tom retired.
Opened a new location in Ft St John BC.
New partners came on board (Including Shannon Anderson, Craig Shields, Gerry Shields, Joan Nellis and Drew Shields who hold ownership today).
Started a Doosan Dealership in GP and FSJ.
Celebrated 50th Anniversary.
Head Office moved into the new shop and yard.
Bobcat of the Peace renovated and moved into the 97 Ave address.
Celebrated 55th Anniversary
Rentco's Tool Shed & Rentco in Fort St. John became a Sthl dealership.
Rentco/Bobcat of the Peace became a Doosan Forklift dealer.
Rentco/Bobcat of the Peace became a Precision Trailers dealer.
Rentco celebrated 60 years in business